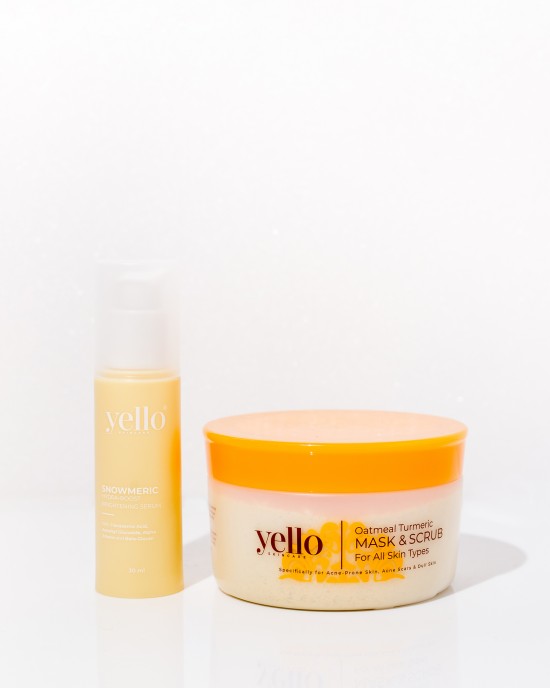 -14 %
Free Shipping
Free delivery over RM75
Breakout & PIE /PIH Combo (OTMS + Snowmeric)
Two is better than one.
There is nothing better than soothing products for inflamed and angry acne. OTMS is he perfect acne healing mask to shrink those painful pimple. After OTMS, Snowmeric should be your go-to product as it lightens post-acne scars as well as hydrates the skin intensely.

OTMS:
1. Remove dirt and excess oil.
2. Reduce acne blemishes.
3. Unclog pores.
4. Exfoliate dead skin cells.
5. Improve dull, uneven skin tone.

Snowmeric:
1.Brighten skin complexion
2.Fade fresh dark marks
3.Deliver sufficient hydration
4.Enhance barrier repair
5.Improve skin discolorations
6.Reduce skin redness
7.Soothe inflamed skin

OTMS:
- Face scrub: 1-3 times per week.
- Face mask: 10-15 mins per day or every other day.

Solvent Suggestion

1.Water
2.Green tea
3.Yogurt
4.Cream cleanser
5.Honey
6.Aloe vera gel
7.Ground Coffee (scrub)
8.Ground rice (scrub)
9.Fresh milk
10.Toner/essence

Snowmeric:
Dispense a pea-sized amount of serum and gently pat all over the skin. Seal it in with a moisturizer of your choice and use sunscreen in AM to maximize skin benefits.
OTMS:
Avena Sativa (Oatmeal), Magnesium Sulphate (Epsom salt), Oryza Sativa (Rice), Cocos Nucifera (Coconut), Curcuma Longa (Turmeric).

Snowmeric:
Water, Butylene Glycol, Glycerin, Niacinamide, Tranexamic Acid, Ascorbyl Glucoside, Yeast Polysaccharides (Beta Glucan), Alpha Arbutin, Curcuma Zedoaria (White Turmeric) Root Extract, Tremella Fuciformis (Snow Mushroom) Extract,
Xanthan Gum, Phenoxyethanol, Chlorphenesin, Sodium Hyaluronate, Allantoin, Ethylhexylglycerin, Citric Acid, Sodium Citrate.


Key ingredients:
1.Niacinamide
2.Tranexamic Acid
3.Ascorbyl Glucoside
4.Beta Glucan
5.Alpha Arbutin
6.White Turmeric
7.Snow Mushroom
8.Sodium Hyaluronate
9.Allantoin

OTMS:
Acne breakouts, tiny bumps, dull skin.

Snowmeric:
Post acne marks, hyperpigmentation, dull skin, uneven complexion, skin redness, flaky skin.

Stock:

In Stock

Reward Points:

128

Model:

Breakout & PIE /PIH Combo (OTMS + Snowmeric)

Weight:

0.80kg
Products Sold: 14
Product Views: 5966
Hurry, this offer ends in:
Ex Tax: RM110.00
Price in reward points: 12800