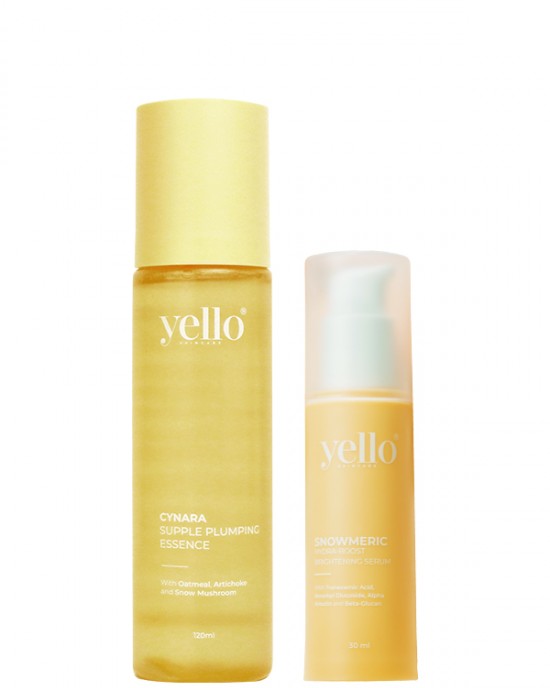 Free Shipping
Free delivery over RM75
Dark Spot Combo
Cynara
This essence is drenched with skin-quenching ingredients to amp up hydration for healthier-looking skin. it is specially formulated with the best selection of Oatmeal, Artichoke, Snow Mushroom, Urea and Sodium Hyaluronate to improve skin elasticity and rejuvenate dull complexion, leaving skin supple and plump.
Snowmeric
Looking for a highly concentrated serum that helps with brightening, hydrating and soothing all at once? You certainly came to the right place.
With a sophisticated blend of high-performance actives, this multi-action serum is what healthy skin can't live without. This is your go-to serum if you are struggling with post-acne marks, hyperpigmentation, or uneven skin complexion.
Form: Gel-like formula.
Oatmino:
1.Remove dirt and excess oil.
2.Restore skin hydration.
3.Soothe skin irritation.
4.Reduce skin redness.
5.Improve skin barrier.

Snowmeric:
1.Brighten skin complexion
2.Fade fresh dark marks
3.Deliver sufficient hydration
4.Enhance barrier repair
5.Improve skin discolorations
6.Reduce skin redness
7.Soothe inflamed skin

Oatmino:
Squeeze a sufficient amount onto palms and lather it well. Gently massage into the skin for 60 seconds. Rinse thoroughly and proceed with the rest of your skincare routine.

Snowmeric:
Dispense a pea-sized amount of serum and gently pat all over the skin. Seal it in with a moisturizer of your choice and use sunscreen in AM to maximize skin benefits.

Oatmino:
Water, Sodium Cocoyl Glycinate, Glycerin, Butelyn Glycol, Coco-Glucoside, Disodium Cocoyl Glutamate, Betaine, Glyceryl Oleate, Acrylates Copolymer, Panthenol, Sodium PCA, 1,2-Hexanediol Avena Sativa (Oat) Meal Extract, Glycine, Serine, Glutamic Acid, Aspartic Acid, Leucine, Alanine, Lysine, Arginine, Tyrosine, Phenylalanine, Threonine, Proline, Valine, Isoleucine, Histidine, Ethylexylglycerin, Phenoxyethanol, Chlorphenesin, Allantoin.

Snowmeric:
Water, Butylene Glycol, Glycerin, Niacinamide, Tranexamic Acid, Ascorbyl Glucoside, Yeast Polysaccharides (Beta Glucan), Alpha Arbutin, Curcuma Zedoaria (White Turmeric) Root Extract, Tremella Fuciformis (Snow Mushroom) Extract, Xanthan Gum, Phenoxyethanol, Chlorphenesin, Sodium Hyaluronate, Allantoin, Ethylhexylglycerin, Citric Acid, Sodium Citrate.


Key ingredients:
1.Niacinamide
2.Tranexamic Acid
3.Ascorbyl Glucoside
4.Beta Glucan
5.Alpha Arbutin
6.White Turmeric
7.Snow Mushroom
8.Sodium Hyaluronate
9.Allantoin

Oatmino:
Dryness, skin flaky, skin redness, dehydrated skin, sensitized skin.

Snowmeric:
Post acne marks, hyperpigmentation, dull skin, uneven complexion, skin redness, flaky skin.

Stock:

In Stock

Reward Points:

154

Model:

Dark Spot Combo (Cynara + Snowmeric)

Weight:

0.40kg
Products Sold: 16
Product Views: 2815
Ex Tax: RM154.00
Price in reward points: 15400